Snorkeling and freediving on Gili Islands
This overview includes points for diving and snorkeling on the islands of three Gili - Trawangan, Meno and Air. If you have found any other cool spots on these islands, please add them.
This game is called "find 10 differences and choose a map that is more convenient for you. You will see a similar map in any dive center and in good hotels and resorts.
If you are came without your snorkeling gear, you can rent it for about Rp 50,000 for one set (mask, snorkel, and fins). If you'd like to get a mask only, or a separate snorkel, then it will be around Rp. 25,000 to 30,000 for one day. You can buy it in one of the dive centers as well.
It is difficult to answer the question whether to go on an organized trip or swim on your own. If you are an experienced person and you go snorkeling not alone - you can do it yourself. If you are traveling solo, afraid of water, and want some distant spots, take an organized trip. If you take a trip, your equipment will be included in the price.
Experienced divers or snorkelers say that the underwater world on Gili can't be compared to the beauty of the Red Sea. Gili attracts guests with a combination of many factors such as calm clean beaches, water sports, and nice restaurants. Do not criticise Gilis if it doesn't meet your expectations regarding underwater world. It is still a great chance to swim with turtles, see interesting underwater creations and even sharks.
Gili Trawangan
Tours
Tours are offered at every step in the kiosks on the main street along the port. You can take a tour at 10.30 am for Rp. 100,000 with a boat for 40 people. Now imagine all these people floundering in the water around the famous statue of Nest in order to make selfies! There is a more humane option for Rp. 150,000. The boat is for 20 people and leaves at 1.00 pm.
Such tours are often advertised as a boat trip with a glass bottom. Frankly speaking, there is no special thing in the glass bottom. "Glass bottom" are basically two transparent panels in the bottom of the boat. They are not very large and often blurry. There is a small chance to see anything through it. To see the underwater beauties you will have to dive anyway.
The standard tour of Trawangan for Rp.100.000 is included:
1. "Nest" statue near the Meno coast (50 meters from the shore)
2. Point "Turtle Paradise" (opposite the resort hotel Seri on Gili Meno)
3. Lunch in the warung on Gili Air. The lunch is very long, the service is bad and the food is not so good, so it is just a waste of time. You won't have time to see Gili Air.
4. Some unknown point south of Air, and there is nothing there. By that moment everyone is tired, want to go home and so no one swims for a long time.
You can check what points are included in the tour with the agent. You can also book a private tour at the kiosks. The price may vary depending on the size of the boat. Tourists are usually taken to the underwater statue "Nest" and to the turtle point "Turtle Paradise".
You can snorkel on your own on Trawangan. The main and most interesting points are the underwater reef "Biorock" with corals, fish and turtles, which stretches along the entire eastern coast at a distance of 30-50 meters from the coast and the north-western part of Trawangan. There is a "wall" along which you can see corals, fish, less often turtles and sometimes even non-hazardous sharks. The famous underwater scooters are located opposite the hotel "Villa Ombak".
1. Biorock
Photo: World Oceans Day
Construction of Biorock

These are metal structures made of iron fittings, on which corals are cultivated at an accelerated rate, allowing very low currents to flow through the artificial structures. In such conditions, dead corals are attached to the net and can grow again. Structures can be in the form of domes, tables, fish, and turtles.
Photo: Matthew Oldfield Photography
There is a giant turtle-shaped structure opposite the former turtle centre.
There is an underwater installation with scooters opposite the hotel Villa Ombak. How to find it? Opposite the hotel, find a pier on the beach and find a square yellow pontoon 2 by 2 meters south of it. There are scooters under the water next to it.
Photo: Brendan Bannister
Around the scooters there are still quite interesting shaped structures.
photo: Brendan Bannister
Try to get in on the tide, because you'll be more comfortable getting to the scooters. If there are strong waves in the sea, the water may be cloudy from the sand and the visibility will not be very good.
Photo: Brendan Bannister
There are boats close to Biorock, so if you dive for a long time, be careful not to dive under the boat or dive as close to the pontoon as possible. The tide may be about two meters, respectively.
Biorock is located on Trawangan along the coastline inland to the ocean on the entire east coast. Another section can be seen from about the turtle centre to the north.
There is a good chance to see the turtles in the northern part of the eastern beach. Opposite the turtle centre, they can be found at depths further north, and they also appear on the shallow water.
2. Shark Point
There's a good point on the west side of Trawangan. It is located opposite the Desa Dunia Beda and Le Piret Club Resorts. 
If you're on the beach, take a look in the morning where all the dive centers and snorkeling boats hang out and go there. The name of the point is Shark. Yes, sharks are occasionally seen there, but very small and they are not dangerous. They have absolutely no interest in people and are even afraid of them. You can see a lot of beautiful animals there as well.
Go to this point at high tide.
Gili Meno
Meno is considered to be the most ideal of these three islands for snorkeling. It is surrounded by the most beautiful points.
If you take a snorkeling tour, it will cost around Rp 150,000, but there will be 4 points, a very small number of people in the boat and no loss of time in some strange café on the next island.
You can buy a tour in guesthouses, or at the kiosks along the street. The pick up point is in front of the medical center, which is located near the dive center Blue Marlin.
1. "Christmas Tree"
I still don't understand why it's a tree, because it's a huge rectangular (!) underwater coral that doesn't look like a tree.
There were a lot of turtles on the point, because it's just outside the Turtle Paradise dive site.
Turtle can be floating at a depth and then go up. They do this to get some air. The point is located opposite the Seri Resort Hotel and you can swim to it from the beach if you want.
If the turtle sits at the bottom and does not float to the surface, the guide dives to the bottom and touches it to make it float. It is not clear how it is done. Perhaps the turtle gets scared of touching it, runs out of air and pops up to gain air. Healthy turtles in a normal environment get to the surface about every 5 hours.
2. Meno Wall
It's about across the street from the Mahamaya Hotel. There are very beautiful colored corals, fish. You can swim and admire all this magnificence for a very long time. You can enter from the shore and swim to the spot.
a turtle you can see diving right from the shore in front of the Mahamaya Hotel
3. Statue of "Nest"
Photo: Bask
It is located opposite the central signboard of the Bask Hotel under construction. If you arrive by boat, you have some limited time. If you are unlucky and come when the spot is crowded, it might be difficult to enjoy your snorkelling here, as other tourists will be constantly trying to get closer to the statue.
Experience shows that a lot of boats from Trawangan arrive at the spot between 10.30 to 12.00 pm, and then there is a lull. Then boats come after 1 pm. If you find a "window", you can get a statue at your own.
Photo: Bask
First of all, the statue itself is awesome. Secondly, someone is constantly feeding the fish, so there are plenty of it here. Colorful, large and small, you will see all of them. If you take fish food with you, be careful, because curious fish may try to bite you slightly.
Photo: Miss Hope
This spot is truly beautiful and we strongly recommend visiting it. If you're gonna snorkel from the shore, check the tide first. Entering the water without fins and coral slippers is very difficult. Walk slowly if you choose snorkeling at low tide. The heads of the statues will be at a depth of about a meter from the surface.
Please do not try to swim from Trawangan to the statue, because of a strong current in the strait. 
video: Daan Verhoeven

4. Bounty Shipwreck
Bounty Shipwreck is located opposite the Avia Villas. There is little left of the ship and it lies at a depth of 12 meters. That is, if you do not have good freediving skills, you will hardly be able to reach it.
This point is not a good place to go on your own from the shore.
If you live on the east coast or dive near the Nest statue, you might want to dive near the Mahamaya Resort Hotel. It's part of the Meno Wall and this is a great chance to see and swim with a turtle in shallow water. The Mahamaya Hotel is also a very good landmark that is easy to find.
In addition to turtles, there are plenty of corals and beautiful fish over there.
Gili Air
1. Biorock
Photo: Lera Mulina
Gili Air also has its own artificial reef "Biorock", although it is not as big as on Trawangan. There are no characteristic structures in the form of scooters, for example. Most of the figures of "Biorock" in Air resemble fish, domes and "tables".
Photo: Lera Mulina
The reef is located on the east coast, just where it is convenient to bathe at low tide.
Photo: Lera Mulina
Biorock is accessible from the popular beach, where most tourists hang out. The beach runs from Scallywags Resort to Sunrise Resort. Then the sandy beach is replaced by a fortified promenade.
Photo: Lera Mulina
If you are on the southeast beach, just sail towards Manta Dive, there are always plenty of boats and you will easily understand how to find it. Tourists are feeding fish there all the time.
Photo: Lera Mulina
Photo: Lera Mulina
Turtles can be found in shallow water even 100 metres north of the 3W dive centre and opposite the Raja Bar sign. You can swim with turtles for half an hour or watch it in its natural habitat.
Photo: Lera Mulina
It is possible to see up to 3 turtles at once if you are lucky.

photo: Lera Mulina

video: Lera Mulina
2. Air Slope
Photo: Lera Mulina
This spot is the easiest way to get at high tide. At low tide you would have to walk about 100 meters along the corals , and then overcome the area with a coral garden, so it will be equally difficult to swim and walk along it.
Photo: Lera Mulina
It's easy to find this spot by simply driving from the Blue Marlin dive centre to the ocean and park next to the dive centre's boat, which is often about 150 metres away from the dive centre.
Photo: Lera Mulina
When you get to the coral gardens, you can swim there and explore the area 100-200 meters to the south.
Photo: Lera Mulina
Be aware of jellyfish in the water. They can sting, no that painfully though. Coral gardens are colored, blue-yellow, with furrows going further into the ocean.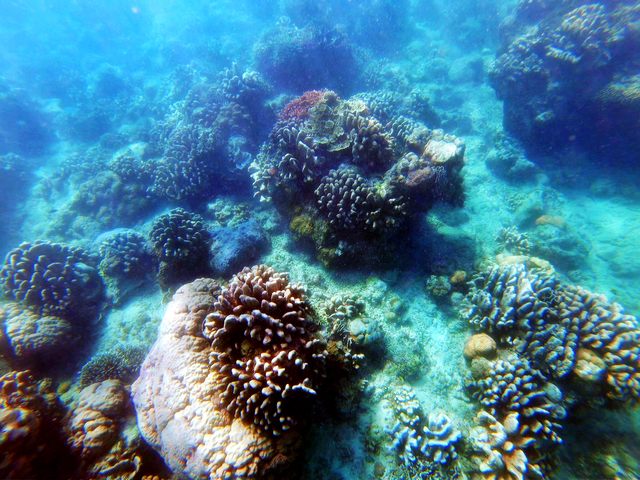 Photo: Lera Mulina
Turtles can be found near the Blue Marlin boat. They can swim at depths or just float there. They do not swim in shallow waters.
*Useful tips*
1) Take into account the tides (https://play.google.com/store/apps/details?id=net.wesettleit.thegilis&hl=en_US) and try to snorkel at high tide. Tide graphs can be found in the Gilis smartphone app.
2) Do not swim beyond the area where corals no longer exist.
3) Be sure to take your partner with you, do not go diving alone.
4) Do not touch turtles and any other sea creatures. Do not disturb turtles in any way!
5) If you are going to feed fish, remember that feeding fish in large amounts can change their eating habits and if, for example, the food from tourists suddenly does not become available, fish will experience great difficulty in switching to another food.
*Please, if you have been swimming or snorkeling in any of Gili Islands, if you have any cool photos, videos, stories or tips, publish them in your comments. This is very useful for other travellers.