How to find accommodation in Bali
Hotel Camaya Bali - top of the instagram, photo @andathousandwords
Finding great accommodation in Bali depends on:
- your budget
- rental period
- whether you're ready to look for a place on your own, or whether you plan to use agency's help regarding your housing issues.
There are different types of accommodation in Bali:
- resorts
- hotels
- villas
- guesthouses / homestays (sometimes in a local house)
- kos (rumah kost, kost, kos, kos-kosan, indekost) - guesthouses of different levels, which are rented out monthly. Kos was popular among foreigners who tried to save money by staying in a very basic housing, but since 2019 in the Badung district foreigners are forbidden to live in kos.
- hostels
- co-livings, which is still a new and less common thing in Bali.
Sometimes there are combinations of these types of accommodation, when a resort hotel has villas on its premises or when the guesthouse has hostels for those who need a hostel.
Apartments are not very common in Bali. Condos are not represented at all.
1. THE SHORT TERM - ABOUT 1-2 WEEKS.
if you stay just for a week or two, then you probably won't want to spend your precious time traveling through the island in search of accommodation. If you rent a hotel, villa or guesthouse for such a short period of time, you will not get very big discounts, such as you can get with a monthly rent.
In this case it's better to get support from good housing agencies in advance.
1.1 SHORT TERM - HIGH BUDGET
Ritz Carlton Hotel in Nusa Dua.
First you need to decide in which area to stay. There's no perfect and "best" area in Bali. It just has to be the one that matches your parameters.
If you have a high budget - east of Bukit peninsula like Nusa Dua is perfect for for family and romantic vacation. Expensive villas with the ocean view are in west, center and south of Bukit peninsula (Jimbaran, Ungasan, Pecatu). Ubud is for spiritual holidays with forests views and rice fields and Seminyak is for parties in clubs, cool restaurants, and shopping in boutiques.
1.1.1 HOTEL ACCOMMODATION
Samabe Hotel in Nusa Dua
Decide where you want to stay - in a hotel or a villa. Hotel makes sense if you're travelling as a small group (alone, as a couple or as a family), you need first-class service and you're not ready to share a common space (like a living room) with other guests. Many five-star hotels have their own spa centres, gyms, kids clubs, beaches with all amenities, good restaurants, and many other useful services. Villas also have similar amenities, but definitely less than in a hotel.
WHERE TO LOOK? - Booking.com
designer glamping hotel Capella Ubud
You can find the hotel at Booking.com
Choose:
- area that you are interested in.
- dates
- hotel stars
- set a custom rating of at least 9.0
and look at what the webpage has offered you.
the Four Seasons hotel in Ubud.
Make sure to pay attention for previous guest reviews and especially negative ones. After all, there is no perfect hotel there, so just find out what exactly the previous guests did not like. Check hotels with at least 20-30 reviews, this will mean that the hotel has already earned a strong reputation.
We recommend using Booking.com. This is a well-established system with excellent customer support. In case of problems, Booking.com customer service will provide you with comprehensive assistance. In addition, it includes government tax and service charge in the price, so you will not have any unpleasant surprises when you pay.
1.1.2 VILLA ACCOMMODATION
villa at The Edge (https://www.booking.com/hotel/id/the-edge.en-gb.html?aid=836103) in Pecatu, Bukit 
The villa is worth choosing if:
you are coming with a large family and you need several rooms at the same place
you are coming with a company of friends and you are willing to share space
you are romantically involved with someone and you are looking for a single bedroom villa with a pool for a private holiday.
It is the opinion that villas in general are inferior to hotels because they have less staff and facilities.
Viceroy complex in Ubud.
Villas located in a hotel (there are lots of options) will have a hotel service. There are independent villas with a good quality service, so it will be focused exclusively on you.
hotel and villa complex Hanging Gardens in Bali, winner of the Boutique Hotel Awards 2018.
Most villas have 2 or 3 bedrooms, as it's more economical for the owners. Some hotels have 1-bedroom villas especially for newlyweds. Sometimes villas are combined for the convenience to receive large companies or several families. Also, the villa owner can rent out a whole 2-3 bedroom villa as a 1 bedroom villa, simply by locking one of the doors.
WHERE TO LOOK? - Booking.com
a villa at Ayana complex (https://www.booking.com/hotel/id/the-villas-at-ayana-resort-and-spa-bali.en-gb.html?aid=836103) in Jimbaran.
To find a hotel villa,* you can also use Booking.com and select what you are looking for in the filter list. Other options are the same:
your dates
area
stars
user rating
Again, read the reviews carefully and pay more attention to negative reviews to see if you're ready to accept the flaws and imperfections.
WHERE TO LOOK?? - Agencies
To find an independent villa, we recommend going to a reputable agency. The agent will ask you some leading questions to understand which villa is best suited to your requirements:
dates
price range
preferred area
number of rooms
leisure style
service requests
Good agents can quickly figure out which one of the properties you will like the most and make your vacation truly comfortable. Don't be afraid to give the agent any more information about the accommodation that you are interested in, this will help to find the most suitable villa for you.
Honest agencies with a good reputation:
Bali Style (https://balistyle.villas/)
Domnabali (http://domnabali.com/)
These two agencies have been on the real estate market for years. Even if agencies don't have a villa in their database, they will pull up their contacts and try to find something that suits your needs as close as possible.

Hawila Villa 
If you are in search for an unusual villa, check the topic on Forum: "Luxury Villas in Bali" (http://baliforum.ru/index.php/topic,109066.0.html). If you like one of the villas, write to balirent@baliforum.ru or info@mybalitrips.com. The manager will contact you.
1.2 SHORT TERM + AVERAGE BUDGET
Hotel Rama Residence Padma in Legian
Same here, we can advise you to go to Booking.com to find a hotel or villa to suit your needs.
If you have an average budget - pick areas where you can find great accommodation at a more reasonable price.
For example, if the prices are too high in Nusa Dua, then book a hotel in Benoa, it is almost the same as Nusa Dua. Skip the front line ocean view, instead, choose transfer to the beach. It will save you some extra money.
Sanur would be a good option for families with children. The sand here is not as perfect as in Nusa Dua, but the sea is calm, without waves and a comfortable hotel can be found at a more moderate price.
Hotel Sudamala in Sanur 
If you would like to immerse yourself in the atmosphere of parties, but Seminyak is too expensive to you - choose accommodation south of Seminyak in the Legian area or north of Kerobokan (Petitenget, Batubelig). Kuta is quite noisy and hectic, choose Kuta only if you really like Asian chaos.
Hotel White Palm in Jimbaran, Bukit.
The areas of the Bukit Peninsula will also be a great choice.
Jimbaran and Pecatu are famous for their beautiful landscapes, although most of the infrastructure is remote from each other and you will need transportation.
Hotel Pink Koko in Pecatu, Bukit.
Hotel Rimba in Jimbaran 
Ubud has lots of options for any kind of budget. Here you can get a hotel with infinity pool and field views at a rather modest price. Keep in mind that the beaches are at a respectable distance from Ubud. Do not take a hotel in Ubud if you have a beach vacation planned, otherwise you will have to spend your vacation at the beach club by the pool, which, by the way, is not so bad either.
Hotel Taman Amarta in Ubud
Hipsters, instagrammers and foodies love Canggu area. There are very few five-star hotels, the area is quite democratic, but remember that the beaches in Canggu have black sand and waves for surfing. There will be no quiet relaxed bathing in Canggu.
1.2.1 HOTEL ACCOMMODATION
Don't be upset if you are on a tight budget. Bali has many great hotels with both four and three stars. If you choose a less "luxury" area, you can count on very interesting options for hotels with great service or interesting design.
Hotel Sol House Melia in Legian
1.2.2 LIVING IN A VILLA
 Nau Villas in Ubud
Great news! In Bali you can find villas at reasonable prices. Less expensive villas won't be as luxurious as you expect, cleaning will be less frequent and breakfast will be more modest. Such villas may be further from the beach and you will need to drive or bike to the beach, but you still can get a private place for yourself, your family or friends.
Cahaya Ubud villas
Yes, the same Booking.com offers quite inexpensive villas.
Look for villas in the most luxurious areas and you'll find great options. Read the reviews carefully to learn about possible pitfalls in advance.
villa Bali Paradise Heritage in Jimbaran.
WHERE TO LOOK ? - AirBnB

villa Ubud Tropical Paradise (https://www.airbnb.ru/rooms/23581721) in Ubud.
Another good way to find a holiday villa is AirBnb service. This site has villas from private owners. They vary greatly in their comfort level and sophistication of service. There are customer ratings that can help in your search.
villa Disana (https://www.airbnb.ru/rooms/4661226) in Amed.
It is wise to choose villas from the owner with a superhost badge. Pay more attention to villas with good reviews and read the reviews of previous guests. Check the villa location in advance, so you won't get disappointed when you arrive.
Agencies.
Even if you have an average budget, you can also contact a villa rental agency.
Bali Style (https://balistyle.villas/)
Dom na Bali (http://domnabali.com/)
Keep in mind that villas start from USD 80 per day.
The agents are professionals and they receive an adequate and reasonable commission as a reward for their work. Since these companies are officially registered, they pay part of their money as taxes. Therefore it would be simply not profitable for them to work with cheap villas. Also, cheap villas mean less service and because of this guests complain more, so it can be stressful for agencies. Good agents value their reputation.
1.3 SHORT TERM + LOW BUDGET
1.3.1 GUESTHOUSES AND HOMESTAYS
Guesthouse Indahbali (https://www.booking.com/hotel/id/indahbali-guesthouse.en-gb.html?aid=836103) in Canggu
Guesthouses and homestays would be a perfect choice for a tight budget. Guesthouses usually have a special layout, given that they will accommodate tourists.
A very cheap guesthouse/ homestay will have a very small room, not a very bright window (fortunately, there are almost no hotels or guesthouses in Bali with no window at all), not very fast and not very stable internet, simple breakfast (if included), fan instead of aircon.
Guesthouse Bali Asli in Ubud (https://www.booking.com/hotel/id/bali-asli-lodge.en-gb.html?aid=836103)
A high-end guesthouse will have air conditioning, hot water, good Wi-Fi, new furniture, and perhaps even a pool. Daily rentals usually include breakfast.
Tara House (https://www.booking.com/hotel/id/tara-house.en-gb.html?aid=836103) in Ubud.
Homestays are the home of a local man who takes one or more rooms for his guest. On the plus side of a home stay may be that you're basically living in a Balinese house, on his personal property, so there's likely to be no bustling parties or noisy neighbours.
Budget guesthouses and homestays can be found in almost any area. Of course, the more expensive the area, the further away your guesthouse will be from the beach (if we're talking about coastal areas), or the centre of the area (if we're talking about Ubud, for example).
guesthouse Uma (https://www.booking.com/hotel/id/the-uma-guesthouse.en-gb.html?aid=836103) in Canggu
Booking.com will help you as always.
Guesthouse Mahamustic (https://www.booking.com/hotel/id/mahamustika-beach-inn-canggu.en-gb.html?aid=836103) in Canggu.
M.A. Homestay (https://www.booking.com/hotel/id/marcel-home-stay.en-gb.html?aid=836103) in Bukit.
These lists by district have gathered guesthouse with good ratings and good location. Don't forget to read other guests' reviews. All of these options are booked through Booking, so you can get their authority and information from this verified site.
2. LONG TERM OVER A MONTH
If you would like to spend a month or even a few months in Bali, we would recommend renting a hotel or guesthouse for the first few 3-5 days and during this time you can look for a long term place to stay. It is much better to see the place before paying for the long term.
Of course, search methods will vary from one price range to another.
2.1 LONG TERM + HIGH BUDGET
If you have a large budget, it is advisable to rent a villa. If you have high demands and you need quality service, you can find a villa with staff who will clean the area and house, prepare food, do some simple things for you. You will be able to hire a driver, and the housekeeper will arrange a massage therapist to come to the villa.
You can look for the villa in real estate agencies:
Bali Style (https://balistyle.villas/)
Domnabali (http://domnabali.com/)
These companies are more focused on short term rentals, but there may be villas with long leases in their base.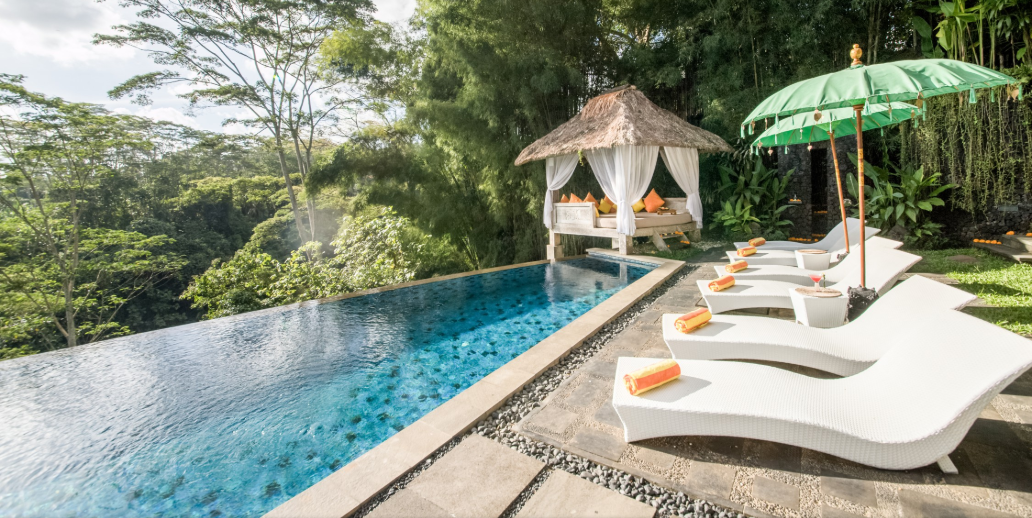 Rainforest Restreat (https://www.airbnb.ru/rooms/plus/16806955) in Ubud.
If you rent a villa on Airbnb for a few days from a private owner and you really like it, then you can arrange a long term rental with a good discount. It doesn't always work, but it can work.
WHERE TO LOOK? - Facebook groups about Bali.
Find a group in FB with a certain area in Bali. There are plenty of groups separated by areas in Bali. There you can write a post about you desirable accommodation, and locals or expats will offer you lots of options. The most popular groups: Canggu Community, Ubud Community, Sanur Community, Seminyak Umalas & Kerobokan Community, Uluwatu Bukit & Jimbaran Community and others.
Owners are not allowed to advertise their properties directly in most properties, but If you post a request, you will be given good options in private messages. Ask for rental prices, more detailed photos and location information to make an initial selection of options.
Read "Bali Housing Rental Tips" (http://baliforum.ru/index.php/topic,1598.0.html) . You'll need them to check the villa before renting for a long term.
2.2 LONG TERM + AVERAGE BUDGET
There are two options here - either instead of a villa to rent a house without a pool, which would be cheaper than a villa, or take a good villa with a pool, but in half with someone.
Plus at home, you'll be self-contained and independent, but less amenities and comfort than a villa. Villas will be comfortable, but you'll have to share spaces with other people or families and look for replacements for those who are leaving.
Usually in Bali, the main difference between a house and a villa is:
- the villa has a pool and usually (not always!) a garden.
- the house may not have either, although sometimes there may be a garden.
2.2.1 Living in the house or in the villa
There are different options for renting out houses in Bali. There are furnished houses, and there are empty houses that are cheaper. Usually unfurnished houses are rented out for a year or more. If you are going for about a year, then if you are ready to buy furniture, you can also consider renting a house without furniture.
Unfortunately, in Bali there are no furniture or appliances rental services, so you will need to buy furniture and appliances either new in the store or preloved ones. People leave the island quite often, so they arrange moving sales in Facebook groups.
Houses for rent in Bali range from $250 for a simple one-bedroom house per month in an inexpensive area and up to $1,200 per month for a decent multi-bedroom house. As you understand that serious price variations are constantly changing, you should consider several similar options in the area you are interested in before making a choice.
The questions about internet, water delivery, electricity and minor repairs are often decided by the residents themselves. Define in advance what part of the utilities you and the landlord will pay. As a rule all utilities under long-term rent are paid by tenants: electricity, gas, water, banjar tax for garbage removal, and internet.
As a house or a cheap villa is usually rented out by a private landlord, so there you can negotiate a discount. If you do a little price research while you are looking for a place to live, you will know how much it costs to rent a house in a particular area. There's no 100% guarantee that the landlord will accept the discount, but it's worth a try.
To avoid misunderstandings, make a contract with the landlord, where you will have all the terms and conditions of the rental. Read the article Bali Housing Rental Tips to see all the key details.
Facebook groups about Bali.
Make a post about your desirable place to stay. The most popular groups: Canggu Community, Ubud Community, Sanur Community, Seminyak Umalas & Kerobokan Community, Uluwatu Bukit & Jimbaran Community and others. Define your area and budget so you do not get unrelevant listings with villas several times more expensive than you expect.
Draw up a contract with all the important points.
Go an ask neighbours about accommodation in the area
Go around and look for "FOR RENT" signs on the houses. It usually has the owner's contact number. You can purposefully drive around villages (in Indonesia they are called "perumahan") and ask people.
There is a good choice of private accommodation in Arjuna village near the entrance to the Dreamland complex, in Permata Ariza village and Puri Gading village.
This method is quite tedious, time-consuming, but effective. Normally people spend 2-3 days before find decent and inexpensive options without overpaying. Plus, in the process of searching for a house you can get acquainted with the area, which is also very useful in order to understand whether you are satisfied with the infrastructure in this place.
Rental websites.
You can search for a house on certain rental websites as RumahDijual.com, Rumah123.com, Berniaga.com, Olx.co.id. The difficulty is that these sites are in Indonesian lanuange and you will have to communicate with the owner either in Bahasa Indonesia or through a Google translator. These sites do not always have many pictures of rental housing and additional information. Get in touch with the author of the advertisment and ask him to send you more detailed information.
Also for those who have problems with Indonesian language, there is a website balibudgethousing.com, made by expats in English, which specializes in budget houses.
2.3 LONG + LOW BUDGET
Even with a tight budget, you can find a nice place to live. There are several options:
Find a villa and a house that someone's already renting and "fit in" a spare room
Find a cheap and simple house to rent by yourself
Find a guesthouse or a homestay you like and negotiate a long term rental with the owner directly
Fin a Kos - a guesthouse for monthly rent. ATTENTION: Since July 2019, foreigners are not allowed to live in koses in the Badung area.
2.3.1 Rooms in a common villa or in a common house or 2.3.2 a house for self-renting
Many expats rent out rooms in villas they rent for themselves. Another common option is when one person rents a 3-4 bedroom villa, lives in one of the rooms, and the rest of rooms rent out for a short period of up to two months.
It's a good option if you can easily get along with strangers. It's still a house, not a hotel, and you will have to communicate regularly and maintain a friendly atmosphere. They often offer a whole floor or a room with a separate entrance.
If your neighbors are nice, they will be happy to tell you about some interesting or useful places in the neighbourhood and give you an introduction. If you are good friends, you can organize trips around the island or at least sunset at the beach. Pay important attention to the human factor. After all, if you guys do not match, it will be difficult for you to live under one roof.
If you rent an inexpensive house, be prepared for surprises - the bedrooms may be so small that the room will only fit a bed and there will be no wardrobe, or a full window to the street will be replaced by a tiny glass block under the ceiling. Sometimes in cheap houses, the bedroom window can go back into the house, such as the kitchen, or a dark backyard.
Facebook groups by area.
Here again, thematic groups such as Canggu Community, Ubud Community, Sanur Community, Seminyak Umalas & Kerobokan Community, Uluwatu Bukit & Jimbaran Community and others will come to help. Select the area you like, join a group and write your request. Gather suggestions, ask for photos and more information, and go for a personal housing check.
Specify your budget from the beginning. People can really help you and give good advice about where to look for a place to live. Remember that for someone, the "reasonable price" can be $3,000 a month and for someone else $300 a month.
2.3.3 GUESTHOUSE
Guesthouse Umah Tikari (https://www.booking.com/hotel/id/umah-tikari-guesthouse.en-gb.html?aid=836103) in Canggu
Choosing a guesthouse will be convenient for you if you do not want to be involved into arrangement and payment of the Internet, repair, cleaning, electricity bills. The owner of the guesthouse solves all these questions. Some guesthouses have free water, tea and coffee for all residents.
In addition, many guesthouses have their own Facebook pages or Google Maps profiles where reviews from residents are collected and you can check out the place for quality.
Guesthouse Chappy House (https://www.booking.com/hotel/id/cappie-house-canggu.en-gb.html?aid=836103) in Canggu
Guesthouse Wingsu (https://www.booking.com/hotel/id/wingsu-guest-house.en-gb.html?aid=836103) in Canggu
If you have decided where you want to live, open Booking.com and find guesthouses in your area with high user ratings and reasonable prices.
Guesthouse Valomia Beechfront (https://www.booking.com/hotel/id/valomia-beachfront.en-gb.html?aid=836103) in Amed.
You can even take options where the total price per month is 40-60% higher than your budget if you add up all the daily rental prices. Next you check this guesthouse in Google maps or Facebook, contact the owner by email or whatsapp (inonesions love whatsapp) negotiate directly. You can get a substantial discount for a long period of stay. Very often you can get a discount of 40-60%.
Guesthouse [Ghamed Sari] (https://www.booking.com/hotel/id/ghamed-sari.en-gb.html?) in Amed.
Guesthouses in the areas:
[Jimbaran] (http://baliforum.ru/index.php/topic,119706.0.html) ,

[Pecatu, Ungasan and Kutuh] (http://baliforum.ru/index.php/topic,119737.0.html) ,

[Benoa] (http://baliforum.ru/index.php/topic,119717.0.html).

[Kuta] (http://baliforum.ru/index.php/topic,119707.0.html) ,

[Legian] (http://baliforum.ru/index.php/topic,119716.0.html) ,

[Seminyak] (http://baliforum.ru/index.php/topic,119767.0.html), 

[Kerobokan] (http://baliforum.ru/index.php/topic,119814.0.html) ,

[Canggu and Tibubeneng] (http://baliforum.ru/index.php/topic,119728.0.html).

[Denpasar] (http://baliforum.ru/index.php/topic,119826.0.html), [

Sanur] (http://baliforum.ru/index.php/topic,119808.0.html)

[Ubud](http://baliforum.ru/index.php/topic,119769.0.html)

[Candidasa] (http://baliforum.ru/index.php/topic,119713.0.html), 

[Amed] (http://baliforum.ru/index.php/topic,119712.0.html), 

[Balian] (http://baliforum.ru/index.php/topic,119714.0.html), 

[Lovina] (http://baliforum.ru/index.php/topic,119719.0.html).

[Nusa Penida] (http://baliforum.ru/index.php/topic,119451.0.html), 

[Nusa Lembongan] (http://baliforum.ru/index.php/topic,119709.0.html), 

[Nusa Ceningan] (http://baliforum.ru/index.php/topic,119711.0.html)

[Gili Trawangan] (http://baliforum.ru/index.php/topic,119834.0.html), [Gili Air] (http://baliforum.ru/index.php/topic,119841.0.html) , [Gili Meno] (http://baliforum.ru/index.php/topic,119846.0.html)
2.3.4 HOMESTAYS
Prices can vary from $200 to $400 per month for a homestay. Most often it's a room with a bathroom and a separate entrance. Common area with a garden. Same as with a guesthouse and kos, you don't have to worry about household things. Most often there will be a shared kitchen on the property, or you can ask the owners for permission to use their kitchen.
This option will appeal to those who want to immerse themselves in the colour of Balinese life and see it from the inside.
Kenchana House (https://www.booking.com/hotel/id/kencana-house-ubud.en-gb.html?aid=836103) in Ubud.
2.3.5 KOS OR APARTMENTS
Please note that since July 2019 foreigners are not allowed to live in kos in the Badung area (it is Bukit Peninsula, Kuta, Seminyak, Canggu, Kerobokan). Ubud, Sanur, Denpasar are not part of Badung.
Koses replace Indonesian apartments and this is a rather diverse category. * "Luxury" kos has all furniture, kitchen, satellite TV, high-speed Internet, swimming pool on the territory and water delivery service. There are also very simple koses with one mattress in the room and a shared toilet.
The cheapest options of "local style" rent from Rp 700.000 - 1.000.000 per month: without furniture or with the most basic furniture (a mattress or a simple bed and a closet), with cold water in the shower, probably without wi-fi or with very weak one. Suitable for those who have a very, very small budget or active travelers / surfers, who just need a place to sleep and keep belongings.
More decent koses can go up to 6-8 million a month. At the same time they will already be called "apartments" and have the facilities of a good studio in the european style.
Unfortunately, most koses are built in areas remote from the beaches in order to reduce the cost of land.
Koses in Denpasar have a two-storey layout of a studio room. The ground floor has a living room, kitchen and toilet, and on the second floor is an "attic" with a bedroom. On the one hand it is unusual, interesting and creates more space, but on the other hand, with such a large volume of space, the air conditioner is not always able to effectively cool the air.
Apps with a list of koses.
Look for websites and apps of the same name on your mobile phone using the keyword Kos. For example, among the most famous in Indonesia: InfoCost (https://www.infokost.id/) . There are pictures of koses, reviews and ratings to make it easier for you to choose your option. Before renting, make sure you go to the kos to see it in real life.
Google Maps.
Just google the keywords kost, rumah kos and look at the options that are offered to you. The options on the list will show you the rating, reviews, photos and locations. Find the direct contact of the owner or manager of the kos and go to see the accommodation in person.