Ubud
Location
Ubud is one of Bali's most famous areas. It is located in the center of the island at the Regency of Gianyar. It is not easy to find the boundaries of Ubud itself and the 13 villages surrounding it. That's why the area around Ubud is often called Ubud as well. The city is surrounded by rice fields, farms and lush dense jungle.

"Artists' Trail, Bukit Campuan, Ubud Ridge Walk; photo: @florian_degreve
Where is Ubud in Bali map

Ubud is located at an altitude of about 400 meters above sea level around the volcanic fold ridge. Many of the hotels are built on slopes with views of the magnificent rice terraces.

Transport
Ubud is about 75 to 90 min away from the airport. A taxi will cost about Rp 200,000 - Rp 300,000 if you take an online taxi Grab or GoJek.
You can also travel by yourself by car or bike without any problems. You can use different roads. Just build a route by Google Maps and rely on their instructions.
You can take the Kura-Kura bus from Kuta from the Bali Gallery stop to Ubud.
If you settle in the centre of Ubud, you can walk around most of the city. You can also rent a motorbike or even a bike.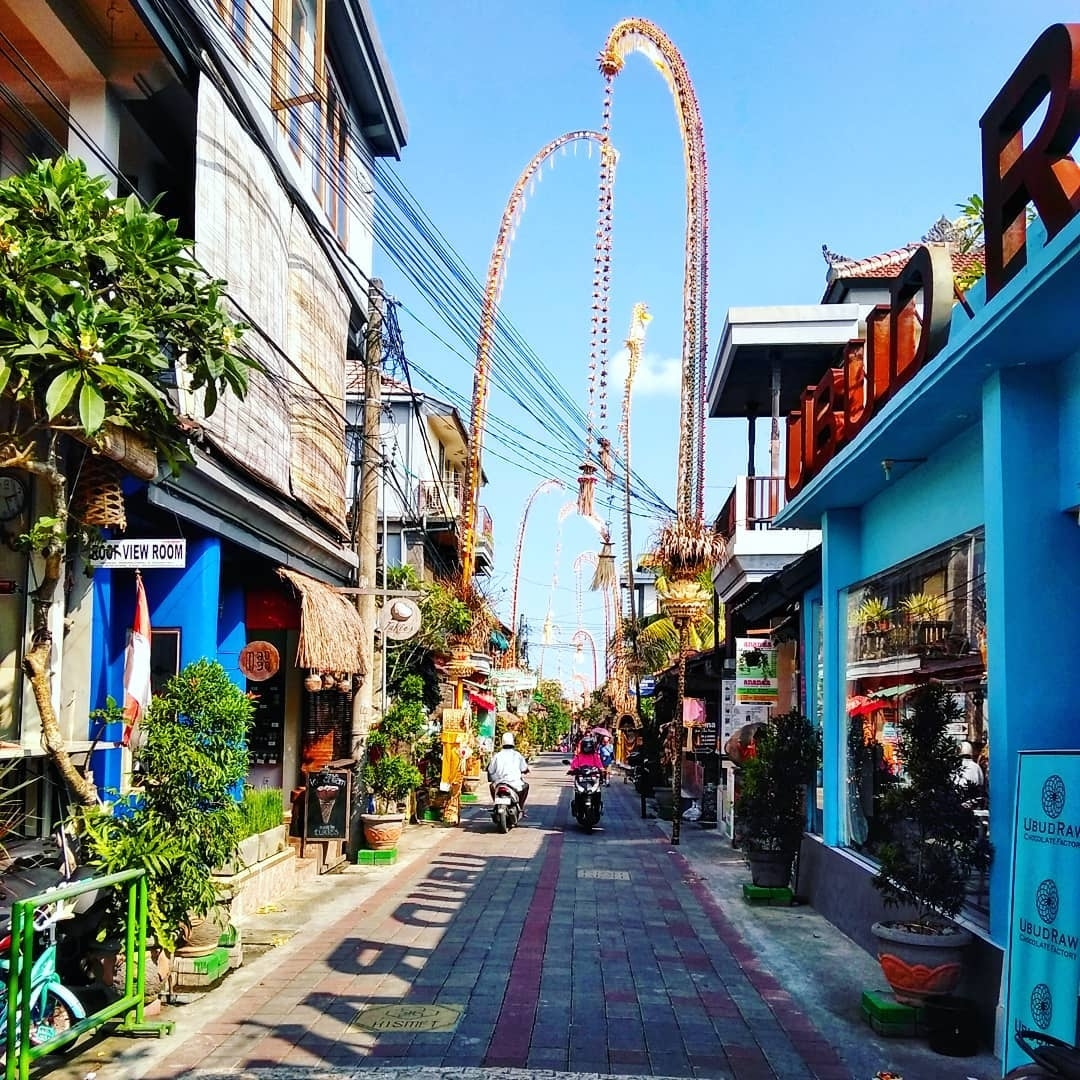 photo: @yogabyjon
There's a lot of traffic in Ubud on the main street during the day. You can only travel quietly on transport in the morning and in the evening.
Pay attention to signs that prohibit parking in certain places. If you park in a wrong place, you may find your bike or car with flat tires when you return. Police officers practice this method to punish offenders.
Atmosphere

Ubud is also known as the city of arts and the cultural capital of the island. It has a huge number of studios, art galleries and museums. Each bar and hotel is unlike any other in the world. The houses in the narrow streets are reminiscent of small towns in old Europe.
The permanent population of the city is about 30.000 people.
photo: @neynarhm
Ubud's history dates back to the eighth century. The legend of the 8th century AD tells the story of the Javanese priest Rsi Markendya, who meditated at the confluence of two rivers near the modern village of Campuang. There he founded the Gunung Lebah temple, which is still a place of worship today.
photo: @travelsweetescape
In the first centuries after his birth, Ubud was an important source of medicinal herbs. And he got his name from the Balinese word ubad, the cure. In modern Indonesian, the word "cure" sounds similar - aubat.
At the end of the 19th century, Ubud was home to a nobleman who obeyed the ruler of Gianyar. Gianyar was the strongest of southern Bali principalities at the time. The nobility belonged to the Kshatrii caste, i.e., the warriors of the Sukawati region and supported the arts that started to develop in Ubud.
Tourism began to develop in Ubudah with the arrival of Walter Shpis, a German born in Russia, who trained local artists of painting and music. Szpis and other foreign artists, Willem Hofker and Rudolf Bonnet attracted many international celebrities to Ubud, among them Charlie Chaplin.
photo: Sky.com
A new burst of creativity took place in Ubud in the 60s with the arrival of the Dutch artist Ari Smith and the subsequent development of the Young Artists Movement.
Nowadays, Ubud is home to one of Bali's royal families. There is a royal palace in the city centre which is open to the public for free.
photo: @loic.arx
You should go to Ubud for a few days. A trip as part of a one-day excursion may not let you feel the magic of this place. Independent walks through the small streets, visits to health food restaurants, antique shops will allow you to feel the atmosphere and history of Ubud.
photo: @bontraveler
The main street of Ubud is Jalan Raya Ubud, which runs through it from east to west. And the two long, busy streets of Munky Forest and Khanoman go south of Jalan Rai Ubud.
In 2018, the Ubud authorities decided to fight against the numerous parking lots they saw as spoiling the city. Many places were closed to parking, creating a more attractive environment for pedestrians. Many tourists were even formed by the fact that the list of city activities can now include long hiking trails through the city.
In the vicinity of Ubud is the famous Green Village. It is both a school and the centre of bamboo architecture in Bali.
photo: Love Bali

In Ubud, the average weather is much cooler than in southern Bali, with more fog and rain. Many long-time residents of Ubud often complain that their personal belongings need to be checked for moisture and mold more often than in the south of the island. If you are seriously acclimatized to the scorching heat of Bali's south, you may find it a little chilly to stay in Ubud.

Anyway, if you are going for a ride from Ubud to the Kintamani area, which is even higher above sea level, take a windbreaker and long pants with you, especially if you ride a bike.

Housing

Ubud has the largest selection of budget guesthouses with high ratings on the booking.com. Prices start from Rp. 100,000.



Sudiana House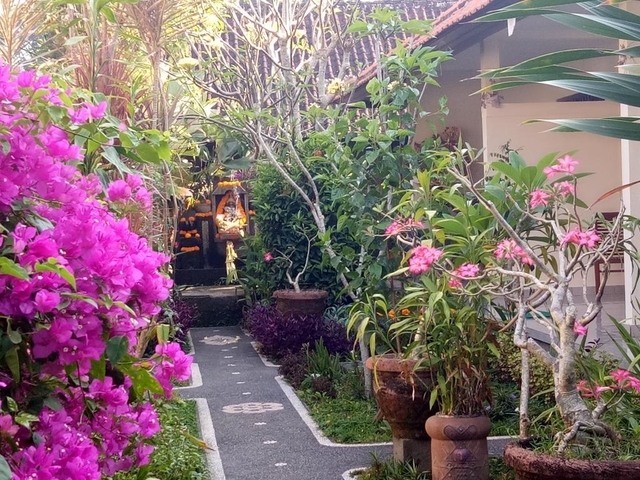 Krisda Ubud Guest House



Kudesa Home Stay

Since Ubud has no nearby bathing facilities, it will be useful for those who come to Ubud on holiday to explore which hotels in Ubud have spacious and picturesque infinity pools.



Pita Maha Resort & SPA

You can read about it in article 7 of the most beautiful hotels with infinity pool in Ubud, Bali.

You can stay in the heart of Ubud to walk everywhere. This will be convenient if you are in Bali and Ubud for the first time and do not want to face any transportation issues.

But there are very important advantages in life a little out of town. First of all, it can be a little cheaper. And secondly, you have a chance to get a home with a stunning view of rice fields or a dizzying canyon formed by the river bed!

Co-working spaces  

Ubud is on the 39th place in the rating of the site Nomadlist, which represents the best for digital wanderers of the city. By the way, Canggu is in fourth place on this list. If you've convinced yourself that Ubud as the capital of spirituality will suit you better, do not worry. You can find good internet in Ubud, and there's even a cult co-working.



photo: The Fetch Blog

The place is called Hood. It is very well known on the island, and Hubud is home to conferences and gatherings of digital travellers from all over the world. The place is very atmospheric with its established community. Although it is quite expensive.

Among others, The Onion Collective is a restaurant and co-working, Outpost is co-working and co-living.

For a complete list of Ubud and all of Bali's coworkers, see the article about co-working in Bali.

Entertainment

Extreme and travel



There are beautiful routes for hiking, you can go a lot of bike or bike rides.
The most popular activities near Ubud include rafting, motocross on lava fields, ATV racing and canyoning.

All these activities can be organized by MyBaliTrips.

Culture

Ubud is a great place to learn traditional Balinese crafts - making silver jewelry, carving wood, making gifts, dancing.


photo: @desavisesa

Pondok Pekak offers Balinese crafts classes for children and adults.


jewellery class at Pondok Pekak

You can take jewelry classes at Chez Monique or Studio Perak.

You can master Balinese cooking at Casa Luna. It is a unique place that combines a hotel, retreat centre, yoga studio, Hindu restaurant, spa and much more.

Cooking classes have been held in Casa Luna since 1987. They include visits to the traditional market. There are also vegan cooking classes on some days. Information on the schedule and price can be found on the Casa Luna website.


cooking class in Casa Luna

For those who do not have enough active time, you can recommend several cultural centers that will quench your passion for communication, dance, film and help you find like-minded people.



Paradiso Ubud

It's also a cinema, a boutique, a dance studio, a vegan cheese bar. The auditorium of the cinema can accommodate up to 150 spectators.

The films shown here tell about the search for spirituality, the search for oneself and the acquisition of wisdom. Schedule of screenings and dance classes (contact improvisation, art nouveau, hip-hop etc.) can be found on Paradiso's website http://www.paradisoubud.com/pr... or on its Facebook page https://web.facebook.com/parad... 
Akasha is one of the main sites of NewEarth Haven movement. The restaurant holds open microphones, concerts, meditations, discussions on spiritual topics.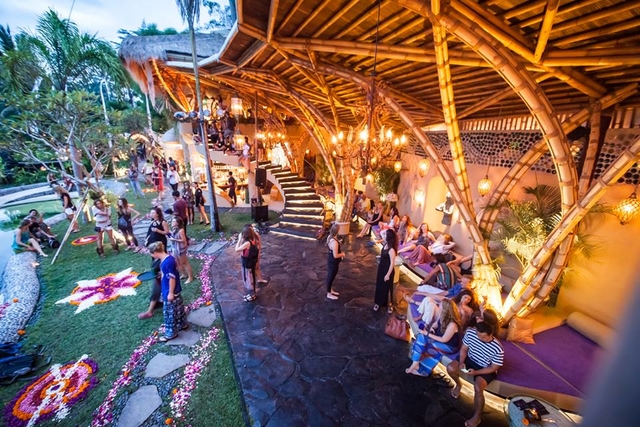 You can find the schedule of events on the NewEarth Haven Facebook page https://web.facebook.com/pg/ne... 
Laughing Buddha
It's a bar-restaurant that holds dances and live music concerts in the evenings. There's always fun and a friendly atmosphere https://web.facebook.com/laugh... to top list

Health and sports

Ubud has the largest number of yoga studios in Bali. The most famous of them are Yoga Barn and Radiantly Alive.


Yoga Barn


Yoga Barn

Yoga Barn is generally synonymous with yoga in Ubud.

Radiantly Alive

You can read more about yoga studios in the article about them.

Tourists in Ubud come under fire with the most unexpected offers - from sacral geometry to hydrocolonotherapy, from crystal-saturated ice cream to ozone therapy and treatment with Tibetan singing bowls.

It is worth noting that many of the initiation rituals in the goddess, cocoa rituals were imported here by yoga entrepreneurs and are not native Balinese, but rather Californian.

If you would like to please not only your soul and body, take a look at the article with the list of the best massage and spa salons in Ubud, which lists the best and proven places.

Attractions

Royal Palace

Puri Saren Agung is a palace located at the intersection of Monkey Forest and Ubud Paradise. It is the residence of Tjokorda Gede Agung Sukawati (1910-1978), the last monarch of Ubud.


The palace still belongs to the royal family. Dance performances are held in the central main court in the evenings.
The palace once housed one of the most important hotels in Ubud, which opened in the 30s of the 20th century.

Temples

Ubud is remarkable for its several temples - Pura Desa Ubud, which is the main temple, Pura Taman Saraswati, and Pura Dalem Agung Padangtegal, in a forest of monkeys, where activities related to going to the other world are held.


Pura Taman Saraswati; photo: Vue Magazine



Pura Dalem Agung Padangtegal; photo: indonesiatravelingguide

For tourists interested in Balinese temples, Gunung Kawi, the burial vault of the royal family, and Goa Gajah, also known as the elephant cave in Bedulu Village, may be of interest.


Gunung Kawi; photo: come2indonesia

Best routes

The famous walking path in Ubud is the Artists' Path.


photo: @wayan_budiana82

A one-way trip takes about an hour, although you can turn back at any time. It is better to come to the trail early in the morning or closer to sunset because it is hot during the day.

Another beautiful path starts a little eastwards and also goes northwards. You can walk along it to the famous Sari Organik cafe.



Sari Organik

Also, another track starts here. It also goes north, gradually becoming a narrow path in rice fields. You can make a circle along this path and go back to the main street Raya Ubud.

Monkey Forest

One of the most popular places in Ubud is the Monkey Forest.


photo: @sashajuliard
The staff of the Mandala Wisata Wenara Wana (Monkey Forest) in Ubud has an important daily task to feed 750 monkeys.

Located in Padangtegal Village, the forest covers 12.5 hectares. It is home to 186 species of plants. In addition, the Monkey Forest is a natural air purifier for the lively Ubud.


photo: @travel_inhershoes

Monkey forest workers spend Rp. 5 million a day to provide food to monkeys. Financing comes from the entrance fee for tickets, which are sold at Rp. 50,000 for an adult ticket and Rp. 40,000 for a child ticket. You can read more about the Monkey Forest in the article about this place.

Rice terraces

Terrace is a lot, one of the most popular is Tegallalang. There are many cozy cafes located right on the slopes. You can sit on the slope in the shade.


photo: @ju,hu.lia

You can also walk on the slopes. Parking by the terraces is paid, at 5.000 rupees per person. It is best to arrive early in the morning, when there is still a beautiful light and it is quite deserted.

photo: @whatsthehelen

Museums and Galleries

There are several art museums in the city and its surroundings. Antonio Blanco Renaissance Museum, Puri Lukisan Museum, Neka Art Museum, Agung Rai Museum of Art or ARMA, Rudana Museum in Peliatan.

Threads of Life is a commercial gallery that exhibits Indonesian textiles from various parts of the archipelago. The sales proceeds are used to develop handicrafts in these regions.


Threads of Life
Gaya Ceramic offers excellent ceramics and clay classes.

Ewa Gallery sells tribal art from the Sepik region in Papua New Guinea.

The Taksu Photo Gallery hosts exhibitions of contemporary travel photography from time to time.


Taksu Photo Gallery

Shops and markets

Ubud has a large Ubud Market with goods from artisans and artists right at the intersection of the main streets. The two floors are simply filled with different souvenirs carved from wood, batik, sarongs.


photo: @lea.lipstix


photo: @ek_im

On average, the prices on the second floor are lower than on the first floor. Be sure to trade to the last! In the morning you can buy fresh fruit there.



photo: @jmhigg

From the main street of Ubud, the so-called "street of masters" departs to the north from the statue. Along this street, for several hundred meters, numerous shops, benches and workshops crowd.

Restaurants

For a small town, the Ubud cooking scene is grandiose.

One of the most remarkable places is Locavore, which is on the list of 50 best restaurants in all Asia. It amazes guests with a variety of dishes prepared with ingredients grown in Bali.



Locavore; photo: The Jakarta Post



Locavore; photo: secret-retreats

Mozaic, a Michelin chef's Chris Solans restaurant, is another star in Ubud's sky. Solans mixes European techniques and concepts with local tastes. The restaurant is gastronomic, so you won't be able to "get away with it".



Mozaic; photo: The Style Junkies

If your budget is more modest, you can try Hujan Locale, the brainchild of chef Will Meirik, which serves authentic Indonesian dishes with universal Asian flavour.


Hujan Locale

Restaurant Moksa will attract fans of raw food and fans of truly organic food. This restaurant as well as Alchemy makes Ubud a mecca for vegans and cheese eaters.



Moksa; photo: moksaubud

If you're also a fan of everything healthy and delicious, be sure to check out Bali Buda's organic food and healthy stuff shop.



Bali Buda

Beach

The nearest beaches to Ubud are on the Ida Bagus Mantra highway. These are beaches with sparkling black sand, although not very suitable for swimming due to strong waves and currents.



But a little further east you can find white sand beaches with good swimming and snorkeling. These are the beaches of Bias Tugel, Blue Lagoon, Pasir Putich.



Beach Bias Tugel



White Sandy or Virgin Beach

Read more about Bali's beaches in our article on beaches.

Surfing

Ubud is a totally non-surfer place. You can, of course, go to Keramas beach when you live in Ubud. But it's a beach for advanced surfers and yet it's uncomfortably far away. So if you want to immerse yourself in surfing, then Ubud is not the place to live.

Keramas; photo: The Bali Bible

Security

You'll find a safe enough area. But there are also occasional attacks on single girls who ride late at night on a bike with purses on their side. Put your valuables in the trunk of the bike at night when you go somewhere.

The second danger is monkeys. It's nice to watch them play and feed them bananas. But keep in mind that if the monkey aims to take something from you and it does not work, it can get angry and bite you.



photo: @aiiuufizie__pujii

Try not to attract too much attention from the monkeys and stay close to the Monkey Forest ministers. If they see signs of aggression in monkeys, they will drive them away with sticks.

At night, do not leave the windows in your rooms open. Tourists write that sometimes thieves break into their rooms and houses through the windows and steal valuable items.